One of our favorite folks, Kathleen Currie, founder of Smoke Perfume Oil, is set to launch her latest unisex scent "RITUAL". Launching this week to many eager fans of her original release that left folks yearning for more. I had the chance to sample her new scent, and I was blown away by not only it's unique notes, but also it's long lasting qualities. Because it's an oil, and not mixed with any other agent, the impression it leaves on you is like nothing else.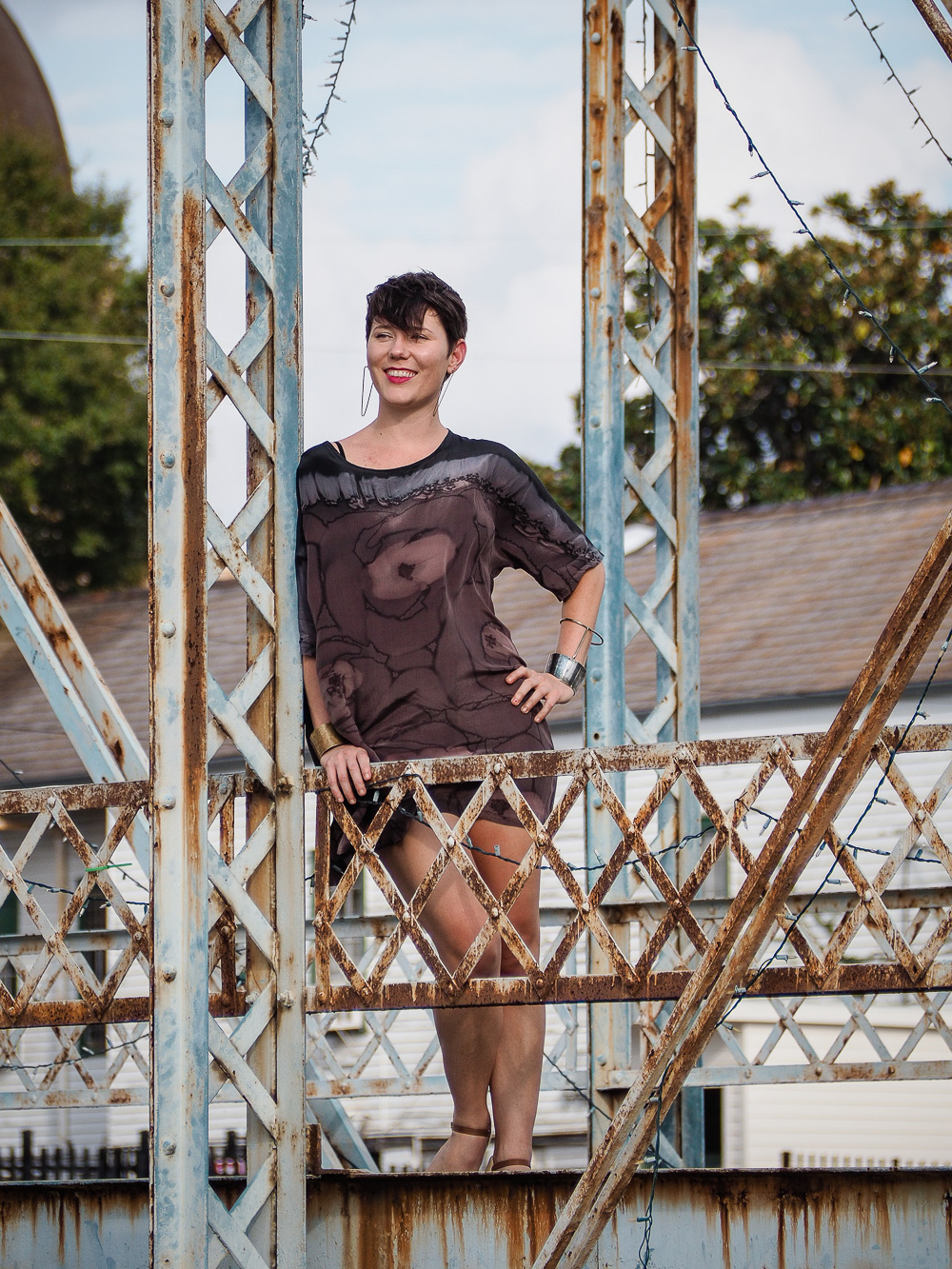 ---
I was so thrilled to be able to walk around Mid-city, one of her favorite neighborhoods, and capture her essence in photographs. Below you'll find more from our shoot, some Q&A, and a flyer for Smoke's RITUAL release party tomorrow at Tasseology (1228 Oretha C Haley Blvd, New Orleans, Louisiana).
1) What do you love most about New Orleans?
I love the beauty of New Orleans. The trees, the architecture, and the sub tropical flora/fauna all work really well together. Also the people. There's a great sense of humor here, and I find myself laughing with strangers alot here, I love that openness!
2) How has New Orleans inspired Smoke?
Well, I think when I moved here (from Arizona in 2009) I reconnected with my creativity. I've always been a very creative/artistic person, and I think I've been able to own that more since living in New Orleans full time. I think the "Do whatcha wanna" attitude here combined with a drive to hustle in really interesting ways…it really feeds me. So, I think Smoke was the creative venture I chose to put my energy into, but if it hadn't resulted in Smoke, it would still be something creative and unique. I really am happy I've created a perfume line here, because New Orleans was always a perfume city…and perfume was always a product imported from France and available in the early days of the French Quarter. Fragrant oils also play an important role in Voodoo spirituality. I'm always aware of the rich history this city has with scent when I'm blending. I think this city smells amazing too! When I created Smoke, I hadn't lived here long, and I really felt connected to my nose in a new way….biking around town, I was always catching wafts of the most amazing things: food, sweet olive, jasmine, trash, the river. It's impossible to escape the natural world living here, and that really inspires me!
3) What's it like growing and building a business like your's in New Orleans?
New Orleans has a really vibrant entrepreneurial vibe! I think it always has, and seems to be going through a resurgence now as well. I am tapped into an incredible network of other artists, business, owners, and makers. I share booths at markets with them, and we get together to talk shop alot. I love that it does not feel competitive here, and I found that in my early days of building my independent massage practice too. If you're kind, community-minded, and a hard worker, there's a ton of support, and the barter economy is big here. Also, there are so many intersecting circles in this city. Networking can happen in so many different ways here, and I've made some of the best business contacts out socially or through word of mouth. I met my wood worker at a potluck, my candle makers run their business down the street from my old house, my designer and I go way back through a friend, my photographer is a friend, and some of my best friends are other makers and artists doing their own thing.
4) Favorite New Orleans dish?
Crawfish! Specifically crawfish boils!
5) What's your most memorable New Orleans moment?
I'd have to say every single Mardi Gras day is the best day ever! Mardi Gras day is like every single fantastic New Orleans moment rolled into one, all day, every direction I turn–it's pure magic and spontaneity, and a bawdy sense of humor which is what I love about New Orleans anyway.