Capdeville (520 Capdeville Street New Orleans, LA 70130 / 504.371.5161) has always been one of my favorite haunts to catch a Saints game downtown, grab a drink after a meeting in the CBD or just to pre-game it before a show. Until recently, my experience with the Mayor's food had been limited to a post Mumford & Sons burger and a few lunches here and there. This perturbed me for sure.
"Capdeville is an American interpretation of a British social house. We invite those craving a gourmet spin on classic bar food and cocktails to join us in an elegantly designed space featuring personalized service and a warm, alluring atmosphere."
The most alluring description is also the simplest – "Inspired by Rock N' Roll and Whiskey" and it could not be any more fitting. The interior adorned with dark wooded tables and leather covered stools totally compliments the old school vinyl hung along the walls as well as the jukebox that's constantly updated and never too loud. My favorite place to sit in the whole place is along the velvet covered benches directly across from the bar. With a growing select of beers and drinks like "Jacks' Black Lemonade" and "Hat Check", you can sort of understand why I never did more than meander through the menu.
I continue to wax on like Mr. Miyagi when it comes to food, but it totally effects me to the core. With each restaurant I visit and with each dish that is delivered I can't help but to get excited. My experiences at Capdeville, including my most recent, visit have been non short of excellent. Below is a selection of dishes I had the privilege of enjoying.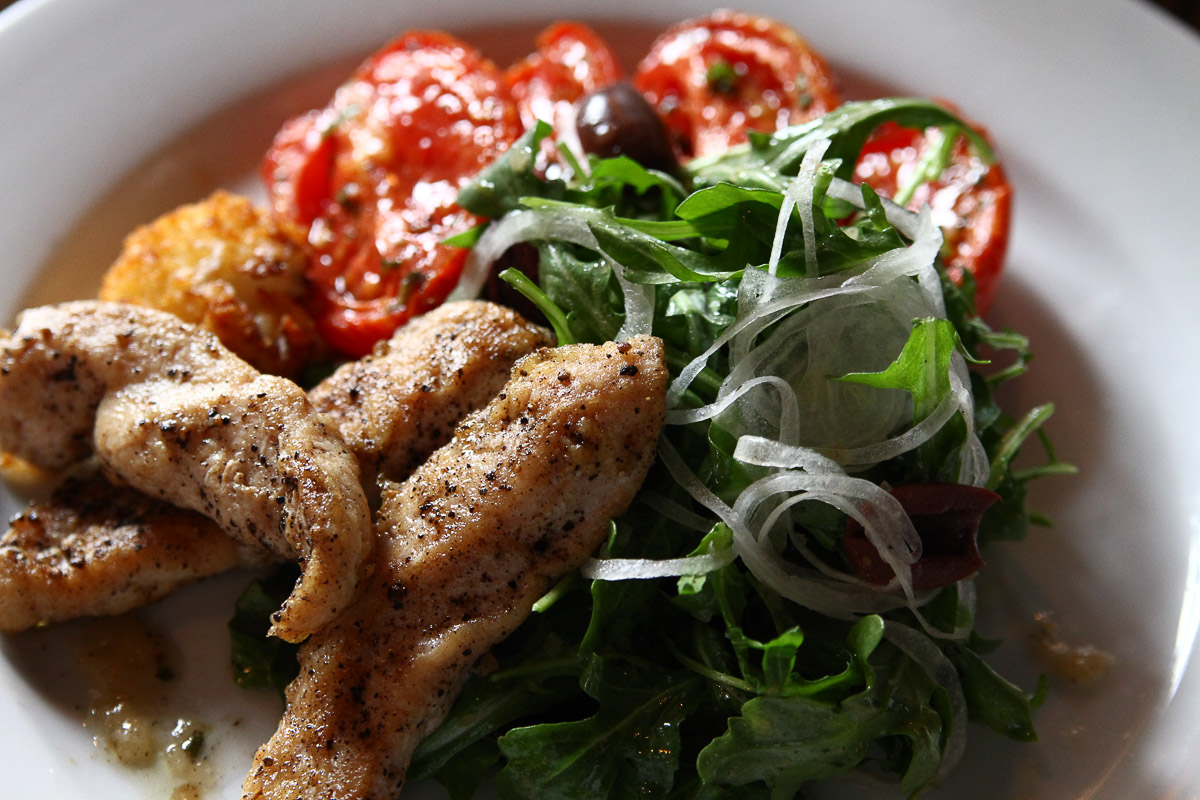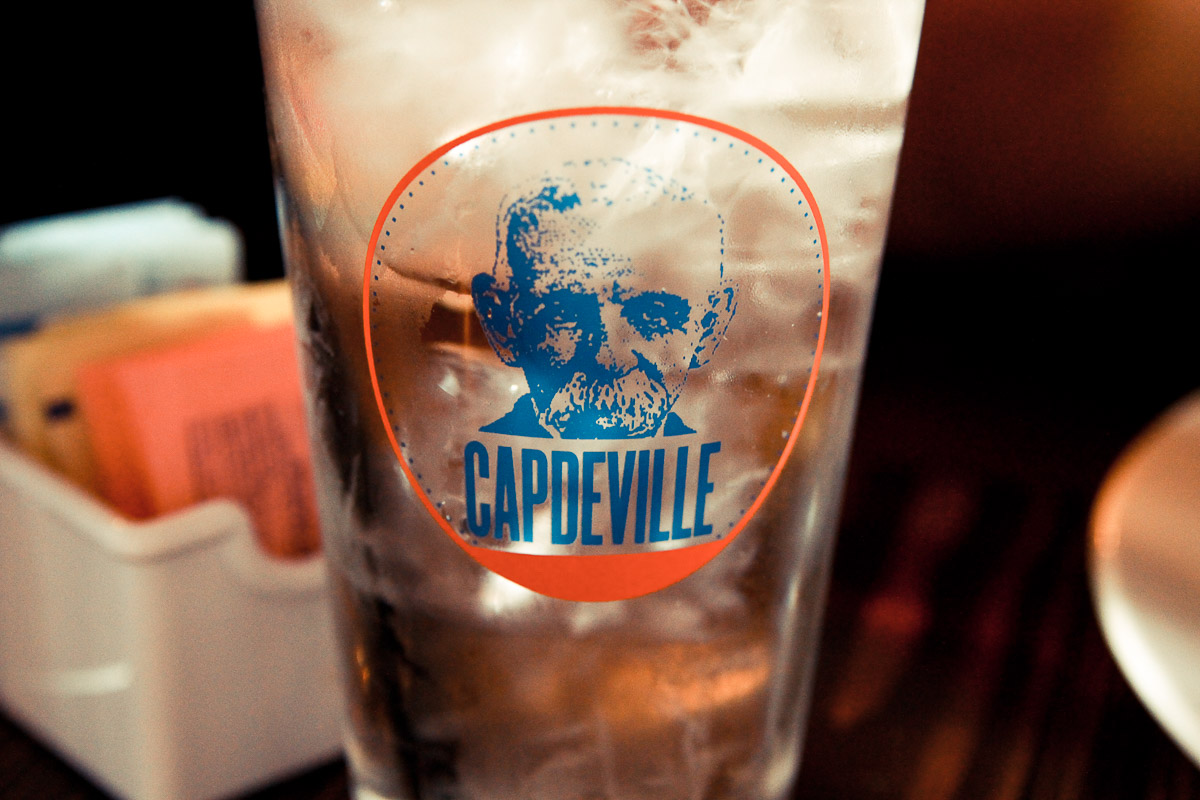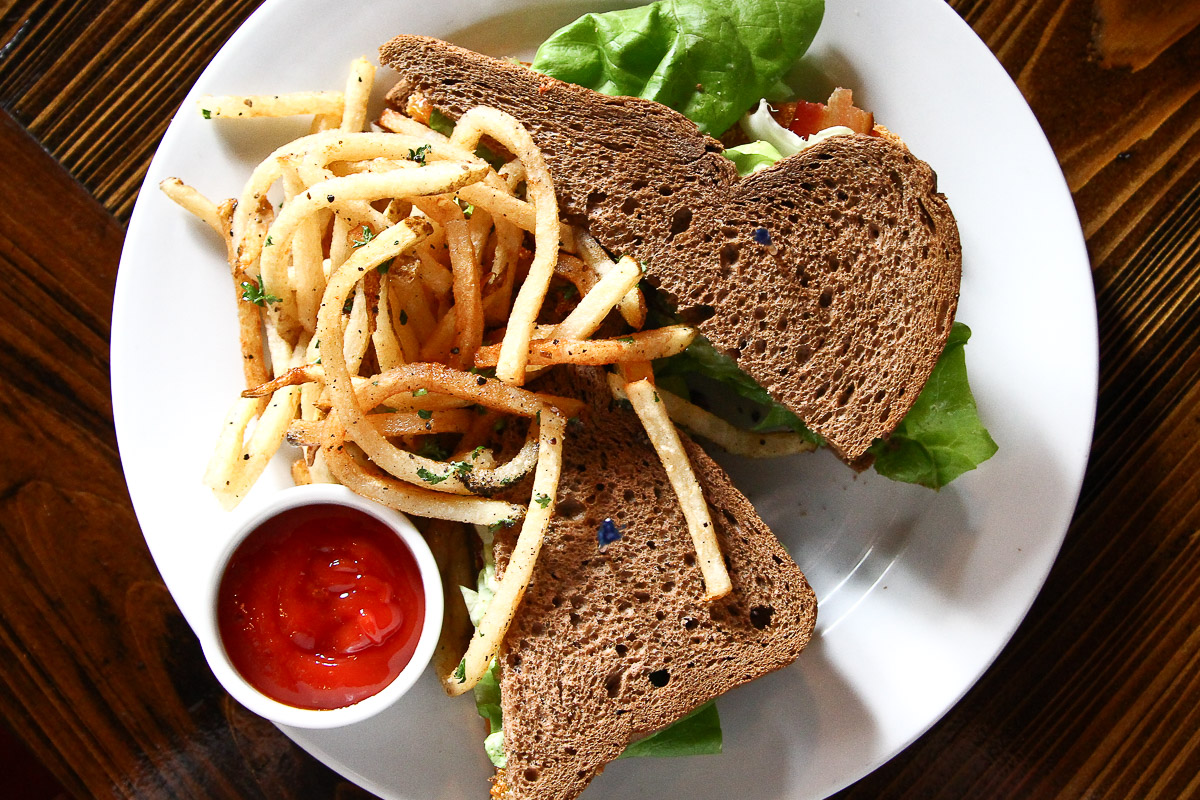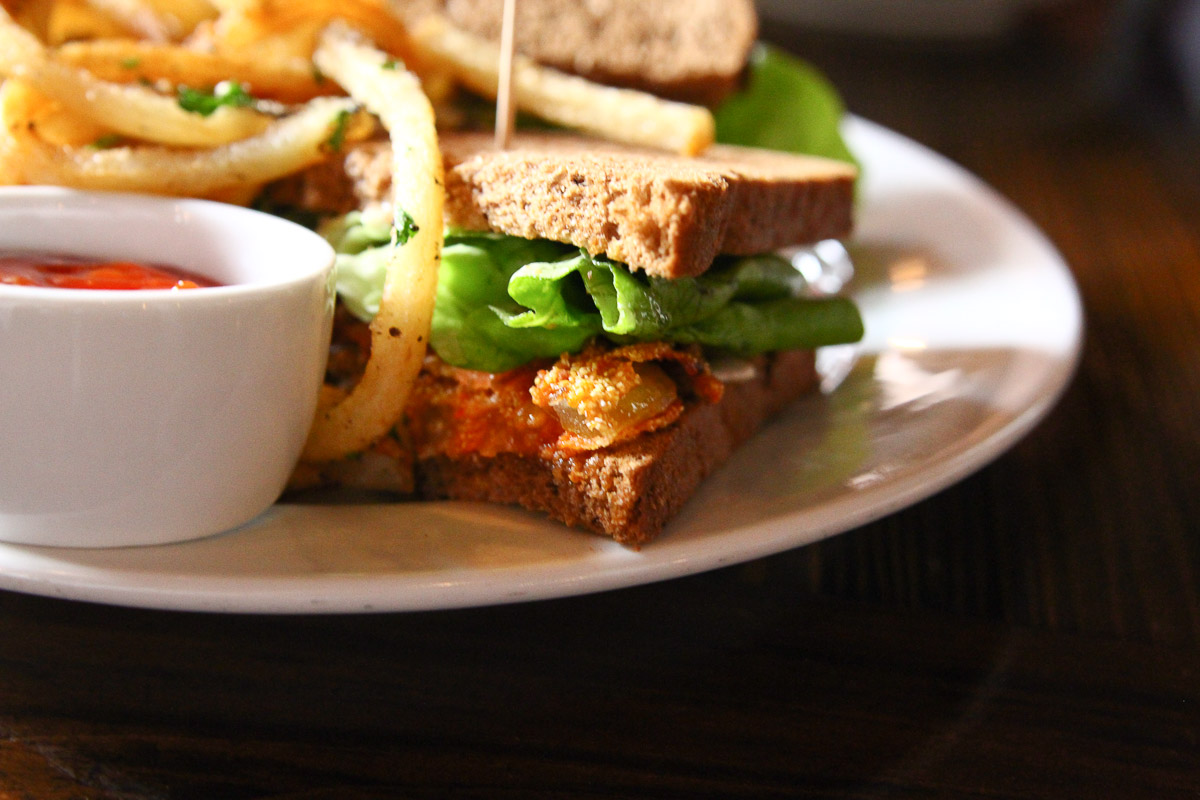 First up was the Roasted Tomato Salad (Arugula, Kalamata Olives, Sweet Onions, Warm Goat Cheese, and Chicken).
This was by far one of the best salads I've had in a while. The tomatoes totally stood out for me, and were super fresh and very tender. The contrast between the subtly sweet dressing, the tang of the fresh onion, and the savory taste of the chicken, was perfect.
Next were the Ham & Cheese Fritters (Serrano Ham, Manchego, White Wine Tomato Sauce).
Now these little fritters of Harry Potter magic certainly belong in the Hogwarts hall of fame. By far one of my favorite things on the menu, the fritters were prepared perfectly and the combination of the ham and white wine sauce was to the moon alice type stuff.
I couldn't get over the fritters and neglected the Chicken & Dumplings (Smothered Chicken, Truffle Gnocchi). Even though I'm insanely crazy about gnocchi, truffle for me is very intense flavor. The smothered chicken evened the flavors out perfectly and the truffle was not as powerful as I thought it was going to be. It was a fantastic dish.
Now on to the main course, which was the B.L.F.T. (Bacon, Bibb Lettuce, Fried Green Tomatoes, Bucheron Cheese on Pumpernickel).
It should have been named the B.L.M.F.T, if you judged it solely on the ingenious use of the fried green tomatoes. I mean give me anything with bacon and I'll be down, but the top notch ingredients of this sandwich totally put me over the edge. It was overwhelmingly good.
Finally, even though I didn't have a Capdeville burger this time around, I wanted to at least tease you a bit with a photo of one of my favorite burgers in town and maybe of all time. The burgers, and sandwiches like B.L.F.T. also come with their fantastically fresh and well seasoned fries.
One thing I will always remember growing up is riding in the car while my parents drove down around town trying to find a place to eat all the while passing every restaurant in town. Capdeville is certainly on my short list for all occasions.